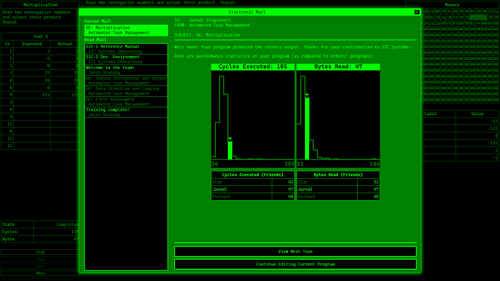 In case you missed it, SIC-1 is coming to Steam (trailer above; launch date TBD):
https://store.steampowered.com/app/2124440/SIC1/
This update on itch.io is a preview of some of the changes I'm making to fully realize my vision for SIC-1, including:

Updated design
Improved Program Inventory
New mail viewer (for perusing old mail from your boss)
Sound effects
In-game reference manuals
If you're looking for new puzzles, this update does not contain any. Sorry! :)
For anyone curious about the Steam release, note that you can add it to your wishlist to get notified when the game is released. Additionally, if you're interested in beta-testing the Steam release (at some point in the future--it's not quite ready yet), send me an email at sic1@antipatterngames.com .
For the record, here's what I have implemented for Steam so far:
Functional Windows desktop build, based on WebView2 (Chrome)
Steam Cloud integration for syncing state between computers
Friend leaderboards
Music
And here's what's still on my to-do list:
Steam achievements
More music
A new narrative
And possibly a mini-game and/or some new puzzles
Hope you enjoy the update! If you run into trouble, leave a comment here or on the main game page. Thanks!